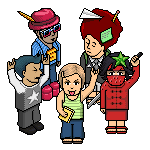 TRADER
Are you a genius when it comes to prices in the world of trading? Do you know all the furnis there are in the Hotel and you like to trade them? As a Trader, you can guide other Habbo users on the web about the price of each furni.
CONTENT
Is writing your "thing"? You can apply for Reporter or Entertainer. The difference is that the first one is dedicated to the news, and the second one to events and games. Two positions, two jobs. Bundles are accepted!
DESIGNER
A pixel here, a pixel there, and voilà! A great work of art! Are you a good pixel artist and you like creating mounts, themes, badges or banners about Habbo? Join us and bring your own style and swag to Habbo-Happy. Who knows what you'll end up designing!
GAMES
At this moment, we are not looking for new Guides for the 24/7 Plan. However, if you have a very good game, we are open to review it and implement it. Keep in mind that we must rebuild it in one of our own rooms.