angelluis54
| 01-09-2019 15:09:15 | 15:09:15 1/9/2019 | habbo-happy.net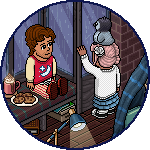 We are finishing August's campaign based on
Sunlight City
and now he have to welcome September, a new month which arrives with a new topic. This year, September's campaign
is related to the back-to-school day and rainy days
, so you can find out all you need so as not to be bored.
Do you want to know all which is coming during this month? So keep on reading this article we've done for you!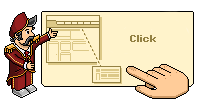 Large promotional image

Four new bundles will be on sale during this month
As in many cases before, different room bundles will be on sale so that users can acquire
an exclusive furniture selection
with its own
exclusive badge
. This month it will be
four bundles
in total.
The first one is the
Back to School Bundle
, which is divided into
three parts
. This bundle includes
three exclusive badges
in total and
four clothing items
: two
book bags
and two
half tied hair
.
NEW: Back to School Bundle!
The full version of this bundle contains three exclusive badges and four exclusive clothing items! (2x Book Bags and 2x Half Tied Hair.)


Clothing items





Bundles' preview



Rainy Day Bundle
, and ideal room in which you can spend
rainy days
in a comfortable way.
NEW: Rainy Day Bundle!
Contains a selection of the new Rainy Day furni!
The next one is the
Supermarket Bundle
, which contains
100% exclusive furniture
that can only be acquired within this bundle.
NEW: Supermarket Bundle!
Made from 100% exclusive furni - get one while you can!
The last one is the
Pro Gamer Bundle
, one room which had already been on sale before and it contains all you need for spending a day playing videogames. There are some
exclusive furnis
inside it.
Pro Gamer Bundle
This bundle containts some of the most technically advanced gaming equipment ever made! Contains a selection of furni exclusive to this bundle.
A new type of furniture has been designed for this campaign
All campaigns which are celebrated in Habbo come with some
exclusive furniture
which are available during the month. As we'd informed you some days ago,
a new and exclusive type of furniture for spending a rainy day
will star in this campaign, so you will can acquire
pillows
,
table games
...
NEW: Rainy Day Furni!
Designed for those warm, cosy days spent inside with rain lashing against the windows.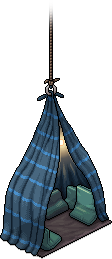 Four new thematic rares will can be acquired during September
Inside all the new furniture for this month, we can find out
four new thematic rares
in which there are
clothing items
and some
stuffed animals
. Let's see them!
RARE Impermeable Raincoat!
You'll never get soaked again.

RARE Little Bear!
One seriously cute addition to your bedroom shelf.

RARE Teddy Dressing Gown!
Perfect for Saturday mornings in front of the TV.

RARE Buffy!
SO FLUFFY!
The Designer Hucci Bag will be the new credit furni which will appear during the campaign
In several occasions, Habbo puts on sale different
exclusive furnis
which can be changed into credits
. This time, a new object called
Designer Hucci Bag
will be available inside the catalogue and users will can buy it for
250 credits
in total.
RARE Designer Hucci Bag Credit Furni!
These are worth 250 credits. Rare and never to be sold again!

What do you think about all which is coming this new month? Do you feel like starting this campaign? Give us your opinion through the comments and keep on reading Habbo-Happy to know more!
---