lPeeluche
| 05-03-2021 23:14:54 | 23:14:54 5/3/2021 | habbo-happy.net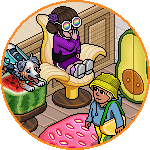 A new month is just around the corner, which means that a new season is about to begin at the hotel. For the month of March, Habbo has prepared several new features related to spring. In particular, the hotel will receive a fruity atmosphere throughout the campaign. Would you like to know all the details that have been prepared? Then pay attention!
Nine old bundles will return to the catalogue during March
For this celebration, the catalogue will receive back nine old bundles that had already been offered for sale in previous campaigns. Some of them include exclusive furni that can only be acquired by purchasing these packs. Check them all out below!
Supermarket Bundle!

Made from 100% exclusive furni - get one while you can!
Breakfast of Champions Bundle

What could be a better breakfast than your all-time favourite cereal? This bundle contains an EXCLUSIVE Cereal Selection furni with four states AND a badge.
Dessert Cafe Bundle!

Who loves desserts? If you do, make sure to pick up this bundle! Contains EXCLUSIVE Dessert Waitress Ribbon and Dessert Waitress Dress.
Healthy Canteen Bundle

Ever wanted to own a Veggie Fiend? Now is your chance: get one EXCLUSIVELY when you buy this bundle!
Posh Restaurant Bundle

Here's THE food obsessive's bundle - impress your Habbo guests in STYLE. Cozy Kitchen furni AND an exclusive Bread Bin - DON'T miss out!
Santini BonBon Bundle

Come with me, and you'll be in a world of pure… candy! This delicious pre-decorated room bundle comes packed with only the finest sugar-coated furni that Santini Corp has to offer. Includes badge!
Boho Street Market Bundle!

All manner of trinkets, baubles and gadgets are on offer at the Boho Street Market. Also included is an exclusive badge!
Farmer's Kitchen Bundle

Combi Stove: check. Jam: check. Now just bring some chocolate and flour, and you're set. It's time to COOK! (Habbo-made)
Parkland Food Market Bundle

Sakura trees, cherry blossom and Japanese street food. What more could you want from a city break in Tokyo? Comes with exclusive badge!
Four new thematic rare have been prepared for this new campaign
The arrival of new thematic rare wasn't to be missed. This time, four new exclusive products will be on sale at different times of the month, including new animals and clothing.
RARE Meow Backpack!

Explore the world without leaving your furry friends at home ever again! RARE and never to be sold again.
RARE Face Framing Hair!

Become the influencer you were always meant to be by adopting the perfect look! RARE and never to be sold again.
RARE Aussie Shepherd!

We know you can't resist such a gorgeous pup! Have you seen that fur? RARE and never to be sold again.
RARE Spring Blossom Tree!

It's time for the blossoms to bloom! RARE and never to be sold again.
A new category of collectibles with a special theme will be available
On certain occasions, Habbo releases a collection of furni and/or clothing items that go on sale for a short period of time. And also, if you get them all, you will be rewarded with an exclusive badge for completing it. During the month of March we will be able to enjoy eight collectables, all of them based on a fruit theme.
Fruit Collectables!

This month we are adding 8 fruity collectable furni items to the catalogue! Along with an exclusive badge, you will also receive a BONUS clothing item if you collect all 8.
Each item comes with an exclusive badge for your purchase:







For collecting them all, you will receive the following mega collector's badge along with the exclusive Lemon Slice Bag:
What do you think of all the new products that have been prepared for the March campaign? Are you looking forward to getting your hands on some of these products? Let us know in the comments and stay in Habbo-Happy for more information!
---