lPeeluche
| 10-02-2021 15:29:53 | 15:29:53 10/2/2021 | habbo-happy.net
It's time to leave the current January campaign behind and enter February. As it has been happening for years, during this month we will be able to enjoy a special season that many users are looking forward to: Valentine's Day. Would you like to know all the details? This is your news!
A total of seven bundles will be on sale in the catalogue
First of all, the campaign will be accompanied by a total of seven themed bundles, including a totally new bundle designed for this campaign. Check them below!
Romantic Florist Bundle
Try your hand at floral arrangements and plant care in your very own Romantic Florist Bundle!
Princess Bundle
We revamped the hugely popular Elegant Bundle… and made everything Purple! Included is an exclusive Princess Kitty.
Pastel Bundle
Cute stuffed toys and pastel rainbow furni: a fantastic combination, we think you'll agree! Every single furni in this bundle is 100% exclusive and will never be found in our Catalogue for sale individually. What a bargain!
100% NEW Blue Elegant Bundle
This gorgeous bundle epitomises the word 'cute'. Don't miss out on this, Habbos!
Classic Star Lounge Bundle
Based on the extraordinarily popular Star Lounge public room, this bundle contains 100% EXCLUSIVE furni!
Celestial Bundle
We're extremely happy to present the 100% exclusive Celestial Bundle! Comes with exclusive badge.
NEW: Sunlight City Bundle
Kick back and enjoy the sights and smells of Sunlight City. Get a great deal on our new furni line with this bundle. Exclusive badge included!
Four new thematic rare will appear along the month
It's custom for those users dedicated to collecting exclusive items, the catalogue receives a series of thematic rare, either in the form of clothing or special furni. For the month of February, there will be a total of four rare on sale, and we'll show them to you below.
RARE Romantic Corset
Put this on your Valentine's checklist this year! Rare and never to be sold again!
Rare Spring Fever Waves
We're eager for spring to come so we started making flower crowns early. Rare and never to be sold again!
Rare Ornate Wire Grandfather Clock
Tell the time from all sides with this Ornate Wire Grandfather Clock. Rare and never to be sold again!
Rare Chilly Bunny
We thought this little guy was feeling a chill so we gave him a woolly hat. Rare and never to be sold again!
A new range of furnis has been designed for this season
It couldn't be missed the arrival of new furni and items to celebrate the start of a new campaign. This month, we receive a number of furnis related to the City of Light theme, as well as some objects belonging to the Bakery and Neon range. This new collection consists of lamps, vases and various floral ornaments, among others. Check them out below!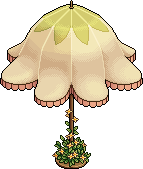 A new credit furni will be offered for sale during the campaign
Finally, it's necessary to mention the arrival of a new credit furni in the hotel. The new Giant Pearl will go on sale this month, which will be worth 350 credits and will only be available for a limited time in the catalogue.
Rare Giant Pearl Credit Furni
Don't clam up now! This pearl is here for the taking.
What did you think of the new products prepared for the Valentine's Day campaign? Are you looking forward to the start of the season? Let us know in the comments and keep visiting Habbo-Happy for more information.
---