lPeeluche
| 02-04-2021 18:38:40 | 18:38:40 2/4/2021 | habbo-happy.net
It's time to say goodbye to March and welcome April and its new season at the hotel. As usual, this month's campaign will be related to Easter, giving it a fashion environment. Would you like to know what's to come? This is your news!
Twelve bundles in total will arrive in the catalogue during the campaign
First of all it's important to announce the arrival of twelve bundles in the catalogue, most of them recycled from previous campaigns. Among them highlights the Runway Bundles, which are divided into four parts in total, and the arrival of a new exclusive bundle.
NEW: VIP Secret Catwalk Bundle
We had you at 'VIP Secret', right? Secure your show NOW!
Runway Bundle
Photocall, Catwalk, Backstage and VIP Party bundle parts, with ALL FOUR accompanying badges. Exclusive furni: 2 x Paparazzi Camera, 2 x Brain Jar AND 2 x Head Bandage





Runway Photocall / Catwalk / Backstage / VIP Party Bundle
Camping Trip Bundle
Take a trip down memory lane with our HC Club bundle! Comes with two EXCLUSIVE HC Lounge Elephants! (HC MEMBERS ONLY).
Classic HC Club Bundle
Take a trip down memory lane with our HC Club bundle! Comes with two EXCLUSIVE HC Lounge Elephants! (HC MEMBERS ONLY).
Log Cabin Bundle
It's getting cold outside, Habbos. Snuggle up on the sofa with your friends inside the brand new, 100% exclusive Log Cabin Bundle!
Photographer's Studio Bundle
Every Habbo can be a runway superstar with this AWESOME room bundle. Pre-decorated with everything you need from backdrops and spotlights, to runways and mannequins - You will be the envy of all your friends! This awesome deal even includes an EXCLUSIVE badge.
Easter Garden Bundle
Double the size, double the value! Built exclusively with the new Easter Garden furni. Included are 15 exclusive Rose Seed packs.
Art Deco Bundle
It's our birthday and we wanted to give you a chance to pick up some of the new 20th birthday furni for a great price. So, here you go. (Built by Jenneben - NL)
Chicken Coop Bundle
This bundle contains CHICKENS! Feed them, raise them, or FRY them. Fully made with new Great Farm Bake furni!
Four new thematic rare will be on sale in April
It couldn't be missed the arrival of new thematic rare for those users who are dedicated to collect them. This month we will be receiving four rare in the catalogue, including two new clothes and some easter items.
RARE Pastel Dragon
The Pastel Dragon is extraordinarily low maintenance and cute as a button! Rare and never to be sold again, people. Get one while you can.
RARE Cosmic Dress
100 thousand million stars in the Universe, but slightly less pixels in this dress. SCIENCE. This is rare and won't be sold again, Habbos.
RARE Frog Hat
A little light amphibian hat, perfect for the spring weather! You just can't say no to those eyes. Never to be sold again!
RARE Gigantic Egg Basket
Don't eat them all at once. And definitely don't eat them raw, eww. (Rare + never to be sold again.)
The Disco Egg LTD will be the new Limited Edition Rare this month
Occasionally, Habbo offers some objects for sale in limited units which once sold out, they can't be bought again. This month the protagonist will be the Disco Egg, a new colour of the classic Habberge Eggs.
Disco Egg LTD
Habberge eggs never looked so good on the dance floor. Limited edition too...
The range of Catwalk furnis increases with the design of new furnis
The April campaign will also receive a new series of catwalk furnis with different neon designs. Among them we found a new type of floor, walls and other decorative objects.
NEW: Catwalk Furni

Online pixellated fashion is a huge part of Habbo. Like, maybe we even invented it? Anyway, go forth and build catwalks!
Renew your wardrobe with a new clothing collection
In a fashion campaign we couldn't leave behind the arrival of new and varied clothing items. Among them are new dresses, several hairstyles and a lot of different accessories.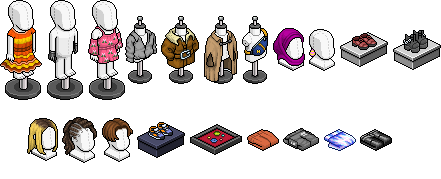 Item crafting returns during the April campaign
Finally, it is necessary to highlight the return of crafting to the hotel. In April it will be possible to use coloured dyes to create new coloured clothing using the new crafting tool: the Fashion Design Table. At the moment, the crafting isn't fully functional in the Unity version.
Fashion Design Table
If you have a passion for fashion, you need one of these crafting tables to work on your clothing customisation skills! NOTE: crafting is not yet fully compatible/functional in the Unity client.
These are the final garments you will be able to create: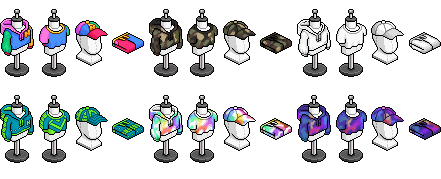 What do you think of all the new products prepared for the April campaign? Are you looking forward to the start of the season to get some of these items? Let us know in the comments and keep visiting Habbo-Happy for more information.
---