angelluis54
| 01-12-2019 13:59:12 | 13:59:12 1/12/2019 | habbo-happy.net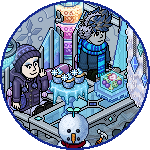 December is one of the most famous months within Habbo users because of the celebration of Christmas campaign. This year the chosen topic is Winter Palace and it comes full with a lot of products which will be on sale throughout this month.
Do you want to see all the products which are coming? Pay attention to this news and keep on reading!
Four different room bundles will appear on the catalogue
As it happens in all campaigns, there will be some room bundles on sale so that users could get a room with some surprises inside. On December there are four bundles for buying.
The first one is the Winter Castle Bundle, a big room full with a great variety of the new furniture which is coming during the campaign. It also includes an exclusive badge inside.
NEW: Winter Castle Bundle
It's so cold in this castle, your pixels may freeze to the floor if you don't move around enough. Exclusive badge included!
The second bundle is the Dark Forest Bundle and it is related to the surroundings of the castle. It will also incluye an exclusive badge.
NEW: Dark Forest Bundle
Dark, frosty spirits roam the woods surrounding the palace. Be careful out there, Habbos. Exclusive badge included!
The third bundle was already on sale before. Its name is Princess Bundle and it includes a great variety of elegant furniture and an exclusive Princess Kitty inside.
Princess Bundle
We revamped the hugely popular Elegant Bundle... and made everything Purple! Included is an exclusive Princess Kitty.
The last one is also recycled and it is the Victorian Street Bundle. It includes and exclusive Victorian Sweet Shop inside, but also a badge.
Victorian Street Bundle
Victorian lanes, streets and alleyways - the scene of so many gripping stories, fact AND fiction. This bundle comes with an exclusive Victorian Sweet Shop!
Five different rares will be on sale during December
Besides the arrival of the different bundles, it's normal to have a series of rare furniture on sale for all those users who want to collect them all. During this month will apear five rares in total.
RARE Polar Braid
Don't miss your chance to pick up this hairstyle, made specifically for sub-zero Habbo conditions!
RARE Iridescent Ice Harp
Said to produce the most captivating and auroral musical notes known to Habbo.
RARE Forward Facing Spikes
Winter hairstyle fashion has never looked so good. Rare and never to be sold again!
RARE Hallowed Ice Fountain
Placed in the grounds of winter palaces by the gods of the glaciers.
A new credit furni will be available during a limited time
Sometimes, some objects known as credit furni are on sale. As its name suggests, it can be changed for credits depending on which is its value. During December there will be one new more whose name is Habberge Egg and it will cost 750 credits, though its image is unknown up to now.
RARE Habberge Egg Credit Furni
Mini Habberge Eggs are worth 750 credits. They're also rare and never, ever being sold again! Stock up while you can.
The Ice Throne is the new limited edition rare for this campaign
There are some limited edition rares which are on sale during determined campaigns. When these rares are sold out, they will never be available again. This month, the protagonist is the Ice Throne, though it is not known how much it will cost.
Ice Throne LTD
Which Habbo will sit upon this icey throne? YOU decide.
A new category of frozen furniture will be available in the catalogue
We cannot forget the new furniture that has been designed for this campaign.
NEW: Winter Palace Furni
Construct your very own frozen, wintery palace with our brand new furni line!
There is a great variety of frozen objects between them whom you will can build your own winter palace with. Let's see them!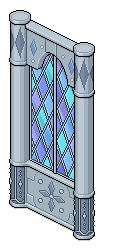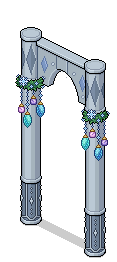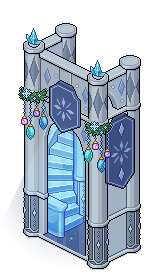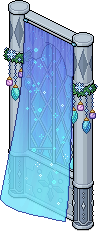 You will can update your closet with new Christmas clothes
You could not miss at all the typical closet update thanks to the new tradeable clothes which will be on sale to adapt your look to this time of the year!
NEW: Winter Palace Clothing
Ever wanted to dress up as an actual snowman? Now's your chance. (There's more than just a snowman outfit - take a look!)
This month you will can buy different accesories such as a snowman outfit or a frozen beard.





Get an exclusive series of furniture thanks to crafting's return
Users will have one more time the chance to get exclusive furniture thanks to the return of crafting.
CRAFTING: Icicle Boxes
These boxes contain either ice carvings (used to craft gilded figurines) or a Crown of Frost. Sometimes, after opening an Icicle Box, you'll get another, different box that will have something else inside. See our Winter Palace website article for more information about how these boxes work!
In this occasion, the needed ingredients will be ice sculptures that will appear inside different boxes. The result will be the same sculpture but with some golden motives. If you're lucky, you will find an exclusive Crown of Frost!

Crafting table






Mystery boxes










Different ingredients and their results

Crown of Frost








Achievement badges
Santa and Mrs Claus Bots return for a limited time
One of the most representative figures of the year is Santa Claus. In order to commemorate him, Santa Claus and Mrs Claus Bots will return to the catalogue for giving happiness through users.
Santa and Mrs Claus Bots
What more could someone possibly ask for? These magical bots are only available for a limited time - Get them while you still can...
What do you think about this new Christmas campaign? Do you feel like getting all these new objects? Give us your opinion through the comments and keep on reading Habbo-Happy to be informed!
---