lPeeluche
| 3 months ago | 01:33:44 5/7/2020 | habbo-happy.net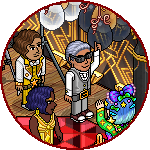 Habbo's 20th anniversary is approaching since it opened its doors in the distant year 2000 in Finland's first hotel and later expanded to other countries. That is why, during the coming months of July and August, the hotel will be wrapped in a great festive atmosphere to commemorate this milestone in the history of the game. For this, the staffs have prepared different activities and products that will be released little by little.
Would you like to know all the details that have been prepared regarding these products? So this is your news!
Nine different bundles in total have been prepared for this celebration
All of the hotel campaigns are accompanied by room bundles with which users can purchase an already assembled room that sometimes includes some exclusive items inside.
To celebrate the anniversary, some of the most appreciated old bundles have been modernized and will return with others already existing. Get to know them!
NEW: Dark Elegant Bundle.
We've added a distinctly darker touch to the much-loved Elegant Bundle, first released in September 2017. It now truly exudes opulence!
NEW: Chill Modern Bundle.
Our fresh take on the Modern Studio Bundle has a new layout, a new colour scheme, but most importantly it's got a new pooch!
NEW: Gothic Dessert Cafe Bundle.
This bundle is for all Habbos, whether you're a goth, a dessert enthusiast or just a simple furni collector. 100% built with new, exclusive items!
NEW: Kawaii Punk Bundle.
If vibrant, neon-style colour schemes are your look and Kawaii is your thing, this bundle is for you. Pick one up while you can!
NEW: Harmony Garden Bundle.
We first released the Zen Garden Bundle back in late 2018 and it proved to be extremely popular. So much so that we decided to revamp it entirely!
NEW: 20th Birthday Bundle.
It's our birthday and we wanted to give you a chance to pick up some of the new 20th birthday furni for a great price. So, here you go.
NEW: Rainy Day Bundle 2.0
Get a selection of the new Rainy Day furni for a fantastic price!
NEW: Sunset Cafe Bundle.
The old Sunset Cafe public room was voted the overall favourite in a Twitter poll we ran earlier this year. So, we converted it into an ownable bit of Habbo History. Enjoy!
Full version of Sweet Home Bundles.
The full version of this bundle contains three exclusive badges and SIX exclusive items! (2x House Keys, 2x Tiny Hamsters and 2x Diamond Heart Necklaces.)
Eight new thematic rares will go on sale during the campaign
Thematic rares couldn't be absent in this special celebration. On this occasion we find some exclusive clothing with the arrival of new anniversary items.
RARE Street Royalty Outfits!
Rule the pixellated streets! Not only does this outfit come with a snazzy new backpack and jacket, it also includes a shiny new crown. This is your one chance to own it!
RARE Frank's Tux!
Frank is a devil on the dancefloor, but you already knew that, right? Get one of his special tuxedos and dress for the occasion!
RARE Gothic Fancy Dress Outfits!
We think you'll agree that this is the IDEAL outfit to wear on a trip to a gothic-style dessert cafe. Rare and never to be sold again!
RARE Neon Punk Outfits!
Is it possible to dazzle another Habbo any more than this outfit does? We think not. Get one while you can!
RARE Sleep Time Outfits!
For when you just need to sleep. Rare and never to be sold again!
RARE 20th Birthday Thrones!
Collector of thrones? We've got you covered. Get one while you can!
RARE Ballroom Candles!
Illuminate the birthday dance floor with a slightly more romantic (and more flammable) light source. Rare and never to be sold again!
RARE Solar Utopia Outfit!
Take a more sustainable, enlightened approach to hotel life. This outfit is rare and will never be sold again!
A new range of celebration furni has been designed for the birthday party
Together with the already mentioned rare and bundles, this campaign will also bring us a new and eye-catching range of furni to be able to create our own ballroom with all kind of objects, highlighting especially its design based on red and yellow tones. We also show you the official icon for the catalogue.
NEW: 20th Birthday Furni!
Here you can find all the tools necessary to build your very own 20th birthday ballroom. Get to it!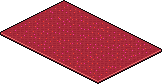 New clothes will also be put up for sale to dress us elegantly
To attend this party it's essential to have a good and elegant outfit for the occasion. That's why throughout the event we will have a series of new clothes to change the appearance of our avatar.
NEW: 20th Birthday Clothing!
What would such an important birthday party without all of the glitz and glamour to go with it? It's time to dress to impress, Habbos!









The Anniversary Balloons return once again with new and big surprises inside
Five years ago, during the celebration of Habbo's 15th anniversary, the users received daily some free party balloons that contained inside different prizes such as duckets, credits or Habbo Club days, among others.
This year we will enjoy them again, but this time in a Rose Gold shade. Pay attention to all the details!
NEW: Rose Gold Balloons!
These balloons can contain quite a few different items. There's even a chance they will contain a Trimmed Rose Gold Balloon! Check the Catalogue for the probabilities of getting each item.
But the most important thing was the possibility of getting and/or buying an exclusive balloon that contained a rare classic of new tonality inside.
NEW: Trimmed Rose Gold Balloons!
These balloons contain one of 16 different rose gold-coloured classic rares! Check the Catalogue for the probabilities of getting each item.
We show you below the new design of the classic rares that will include the exclusive variety of balloons.














What do you think of the news that is coming during the celebration campaign for July and August? Do you feel like starting to get some of the furnis? Tell us through the comments and keep on reading Habbo-Happy for all the details of this celebration.
---