lPeeluche
| 29-09-2020 01:03:29 | 01:03:29 29/9/2020 | habbo-happy.net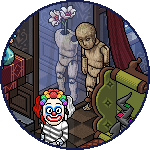 Little by little we get close to the end of the current September campaign based on the Cyberpunk World and the arrival of autumn to get into one of the most special and intriguing times of the year: Halloween. Would you like to know all the details prepared for this celebration? Then pay close attention to this article!
There will be in total eight thematic bundles that will go on sale
Each campaign is accompanied by their respective thematic bundles with a variety of decorative furnis inside. During this month of October we can enjoy eight new bundles, some of them already existing in the hotel.
NEW: Eerie Porch Bundle!
Do you enter the Impossible House? Or do you not? Exclusive badge included!
Haunted Lobby Bundle
This lobby bundle contains an EXCLUSIVE Cabinet of Curiosities with a mixture of Builders at Work-selected Ghost Hunters + classic Habboween furni!
NEW: Creepy Living Room Bundle!
There's something really wrong with this living room. Go check it out, we think you'll agree. Includes exclusive badge.
Witch Academy Bundle
Learn the way of the witch.
Haunted Library Bundle!
There's something distinctly spooky about this library. Exclusive badge included!
Infected Laboratory Bundle
Get a ton of the new Infected Laboratory furni at a GREAT price with this bundle. Double the size, double the value! Includes exclusive badge.
NEW: Nightmarish Bedroom Bundle!
This is one bedroom you're sure to have nightmares in. Includes exclusive badge!
Hidden Treasure Bundle

Hidden in the Cursed Caves is a stash of treasure, guarded by (vicious AND exclusive) Mimic Chests! Available for a limited time only.
Four new thematic rare arrive at the hotel
Every monthly season at the hotel includes a variety of new furnis and also thematic rare for those users dedicated to collecting exclusive objects. This month we will receive four rare, among which there are two new clothes to dress up our avatar.
RARE Living Hair!
One of the scariest pixelated hairstyles going. Rare and never to be sold again!
RARE Pumpkin Costume!
We can probably all agree - this costume is CUTE. Rare and never to be sold again!
RARE Melting Work of Art!
Diamond paintings are cool and all, but have you got a MELTING one? Rare and never to be sold again!
RARE Housekeeper's Hourglass!
Impossible houses have impossible housekeepers. Every time the pixels run out in this hourglass, it become exponentially harder to leave! Rare and never to be sold again!
The called Sobbing Fountain will be this month's new Rare Limited Edition
Some seasons also include the famoust Rare Limited Edition, also known as LTD, whose number is limited and only the fastest users manage to get hold of them. During the October campaign we will receive a new rare LTD which seems to be a cursed fountain.
Sobbing Fountain LTD
What could they be sobbing about? Probably everything.
'Impossible House' is the name for the new furni line during this season
Throughout this month, we are receiving a great variety of furni with a mysterious and confusing appearance.

Among them we can find inverted stairs, different cursed objects and new home accessories of the most terrifying kind. Be careful not to get lost among them!
NEW: Impossible House Furni!
Hidden forces, bathroom-lurking monstrosities and trees that bleed. All things you will find in this Habboween's furni line: Impossible House!
Classic and old Habboween furni lines are also returning this month
Along with the arrival of the new Habboween furni we will also have back some classic and well-known furni categories such as those belonging to the Infected Laboratory line or those related to the Cursed Caves.
A new line of terrifying clothing will go on sale in the catalogue
We couldn't forget the clothes we could use to create our new Halloween costume for this year. That's why designers have created a selection of new accessories such as a pumpkin backpack or a clown mask. You can see everything below!
NEW: Impossible House Clothing!
We just dropped a ton of brand new Habboween clothing. Go check it out!
Crackeable furni will also be part of the new campaign
Last but not least, we have to highlight the return of the known crackeable furnis: a particular object that includes inside a diverse selection of exclusive furnis that you can get depending on chance. This month we will be able to get two Pandora Chests, one even more exclusive than the previous one.
NEW: Pandora Chests!
These chests have a small chance of containing a Cursed Pandora's Chest when clicked! Check the Catalogue for all probabilities.¡
The rewards from inside are varied, although the known as Pandora Chests includes inside it the special pets that, when training them, they become a exclusive clothes to yourself.
NEW: Cursed Pandora Chests!
The chests contain one of four otherworldly entities. Each entity needs to be attacked or powered up before it disappears and a new furni or clothing item takes its place. Check the Catalogue for all probabilities!
What do you think of all these things prepared for Halloween campaign? Do you want it to start for getting something special? Tell us through the comments and don't stop visiting Habbo-Happy for more information.
---