angelluis54
| Last week | 13:55:39 9/10/2019 | habbo-happy.net
There are
only few weeks left until November begins
, but
Habbo Staff have all almost prepared
in order to present all which is coming with the next campaign.
Today,
the designers have shared an advance
of what we are going to find soon about a campaign called
Winter Horizon
.
Habbo Staff: "For November, our designers have decided to create a topic based on cold which is going to be called "Winter Horizon". It will be focus on clothing and a new bundle totally new and 100% exclusive called "Log Cabin Bundle". This bundle is not finished yet, but you can look at some of the furniture it will include. There will also be a new Credit Rare Furni - King's Orb, other three classic bundles and Diamond Gift Boxes will be available again."
Within all the new designs we can find clothes and rares which will be on sale. There are three furni and ten clothes.













On the other hand, there also are furniture for an exclusive bundle.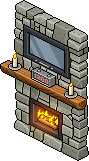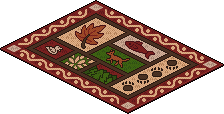 What do you think about this new topic and the first images? Let us know you opinion and keep on visitin Habbo-Happy for more information!
---