angelluis54
| 02-08-2020 19:43:51 | 19:43:51 2/8/2020 | habbo-happy.net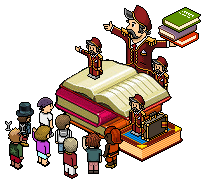 Many months have passed since we started to inform about Habbo's technology migration from Flash to Unity in order to develop a more updated game version known as Habbo 2020. During the last months, Habbo Staff have been revealing some photos of this new version. Among them are the reward system, the marketplace and catalogue and the look editor. However, some important aspects such as the console or the room navigator have remained unchanged until today.
Habbo-Happy has had exclusive access to some tests which have been done by Sulake in order to improve the room navigator by changing the name of some categories. Here we explain in detail all the information this includes. Would you like to know more? Keep on reading!
The room navigator would remove the term "Public" and "Popular" would become more important.
By using the principal menu of the navigator, we have access to different categories to make it easy to search for rooms. The changes on this window are focused on some principal categories which will be changed from Public and All Rooms to Recommended and Popular. This change may be done since the principal view also shows private bundle rooms, ambassadors or fansites, which are not actually public rooms.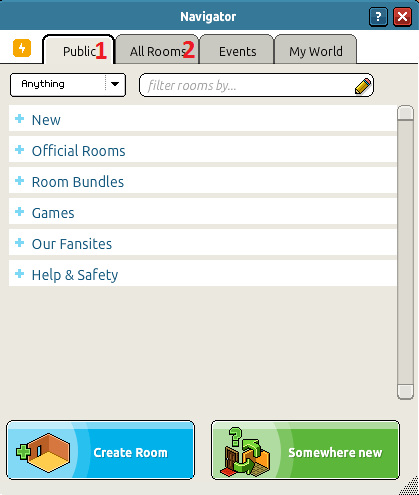 "All Rooms" and "Popular" would change their position in the navigator
The second update will be done in the second option of the principal menu, specifically in two of its categories: Most Popular Rooms and Recommended For You. Their new names will be All Rooms and Recommended respectively, where it is visible the tendency to enshorten the current names. Therefore, the name of this subcategory will be the title of the menu, and this title will be the name of the subcategory.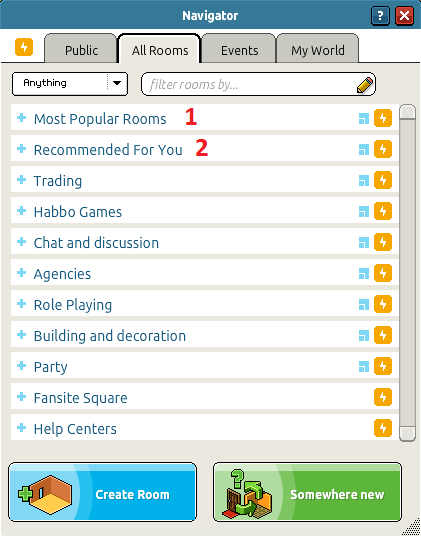 Reduction of terms also for "My World"
The last update goes to the most personal section of the navigator in which it is found the rooms related to our user activity. This time, the change will take place in the category "Frequently Visited Rooms", whose new name will be "Frequently Visited", in "My Favorite Rooms" which will turn into "Favorites" and in "My Room Visit History" which will be "Room Visit History".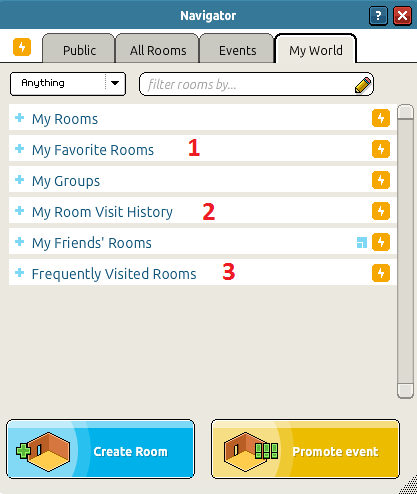 Although we can inform about this update in advance, the new appearance of the room navigator is still unknown. However, it seems to follow the same design of the other sketches about Habbo 2020.
What do you think about these changes that will be done in the navigator? Do you want them to happen? Do you think of other categories to be added, removed or modified? Give us your opinion through the comments and keep on reading Habbo-Happy for more information!
---